I know my birthday is over, but I still wanted to share that as my theme for this months Etsy posts. This month I will be sharing items that I really, really want in my collection of things and will probably purchase at some point. I know this isn't much of a theme, or super different from most of these posts, but either way that is the plan for today so let's get searching.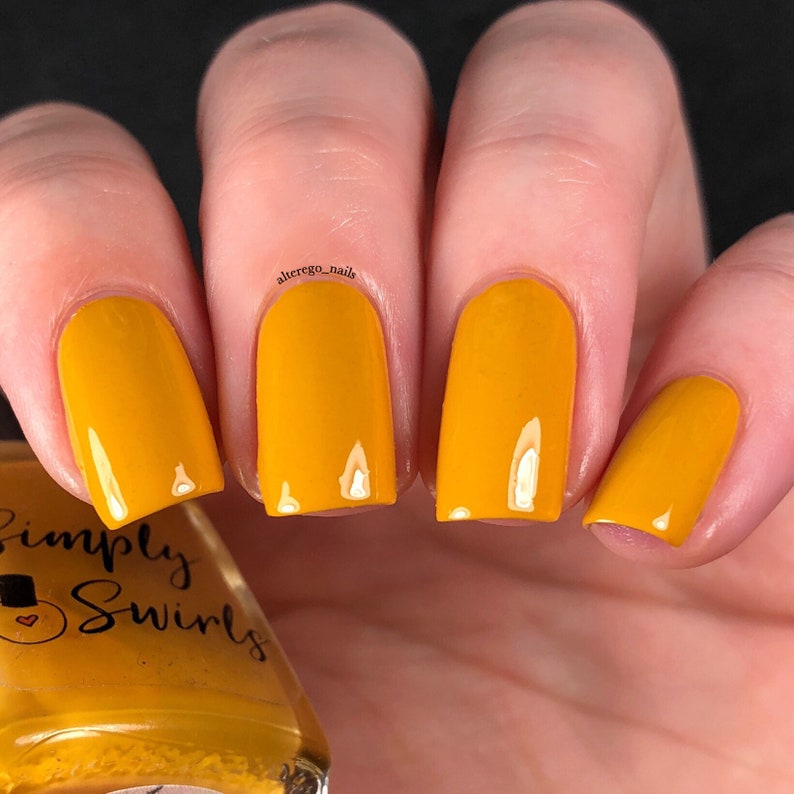 I have fallen deeply in love with nail polish once again, I am not sure what it is but I am obsessed so expect to see some more polishes on this list. Anyway, this mustard shade is stunning and really perfect for the fall season if you ask me. This is from the shop SimplySwirlsPolish and retails for $10.00.
This shop has a lot of beautiful colors of nail polish but like I typically do I narrowed it down the three. This purple shade is so bright and fun, this dark green shade feels like a great one for the upcoming cold months and lastly, I settled on this minty blue kind of shade.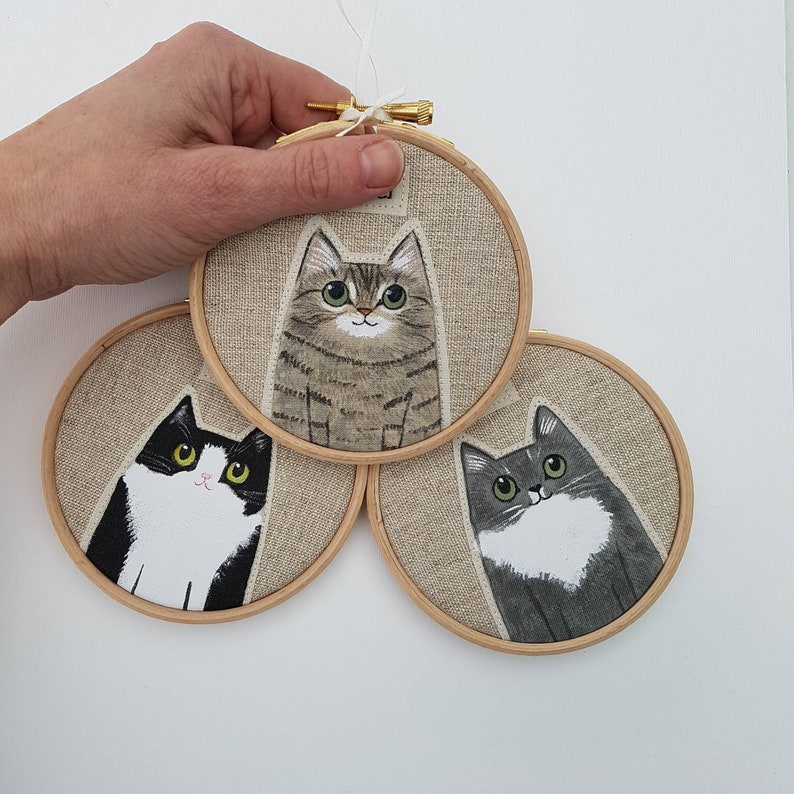 I have talked to my husband about these and honestly, I think he's judging me a little for wanting these but what does he know? These custom cat portrait embroidery hoops are too cute, they come from the shop BoxRoomBazaar and will run you $28.22 per hoop.
This shop has all kinds of majorly cute items in it but I did pick out three. I think this Christmas Hedgehog needed to be included, this Calico Cat one is also super adorable. My last pick is this giraffe in a flower crown that I am lusting over a little bit.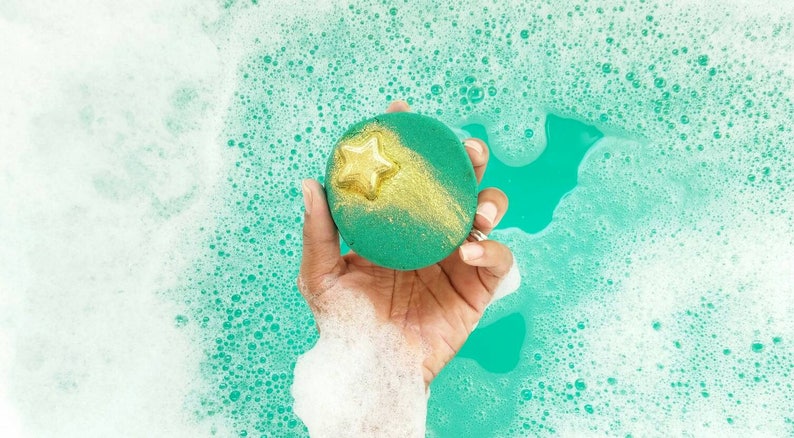 I think this bubble bar is really beautiful to look at and it sounds like it smells really fantastic as well. This is from the shop ButterMeSoft and will run you $6.75.
This Aurora Bath Bomb looks like it'll smell great and be beautiful in the water, I'm interested in this Banana Creme lip scrub and lastly this Peach Me I'm Dreaming shower jelly sounds like a fantastic one.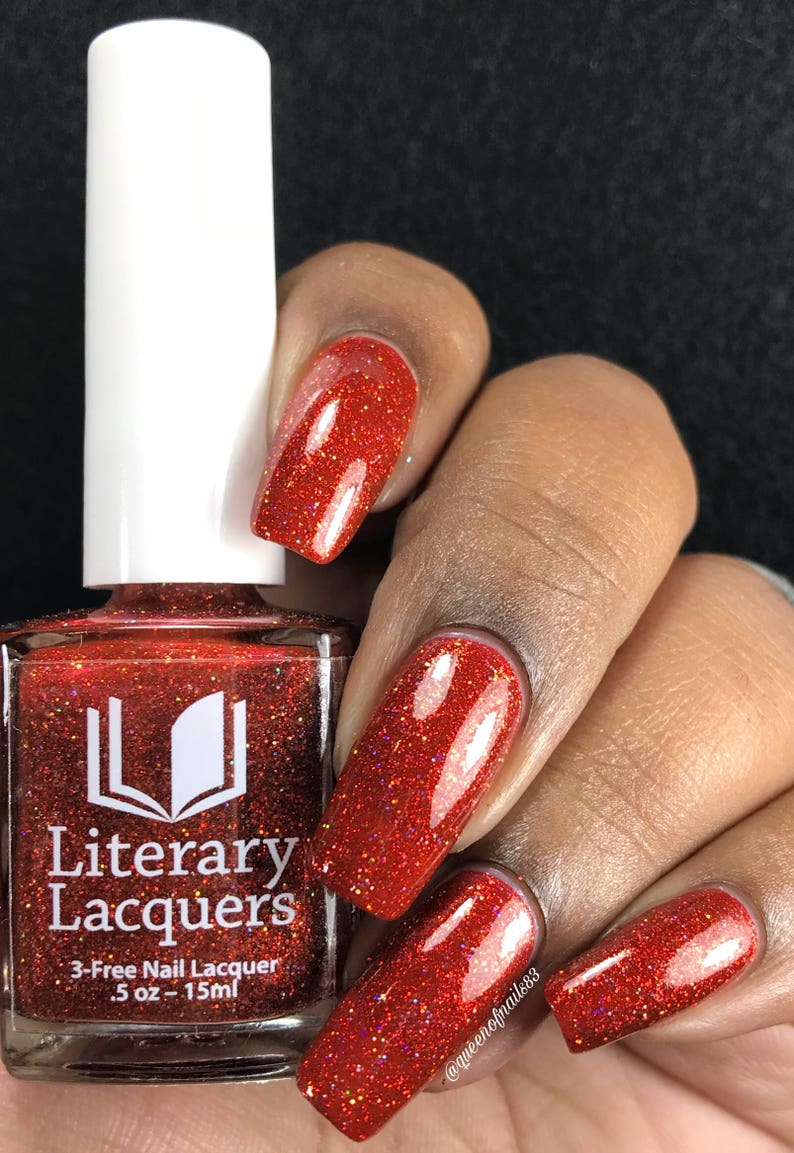 I think this red glitter polish is really pretty and think it would be fantastic for the holiday season. This one comes from the shop LiteraryLacquer and will run you $10.00. I love the name of this shop and I love all of the pretty colors that this shop sells.
That being said I did narrow it down to three additional products to feature here like I always do, though it was a little bit difficult to do so. The first is More Like Fire Than Light, which is a stunning bright orange holo kind of polish. Long May She Reign is a really fun and bright lime green shade with glitter, this one really reminds me of Halloween and I kind of want it to wear then, we'll see though. My last pick is Marilla's Amethyst Brooch which is a really pretty bright purple shimmer shade that I really like the look of.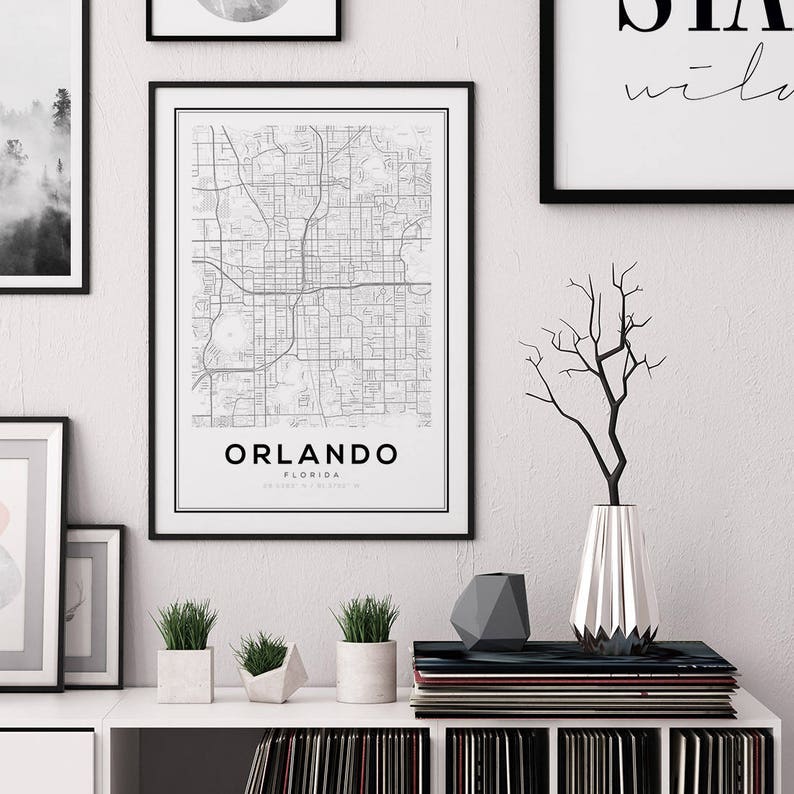 The house is getting closer to be finished every day and because of that I have for sure have been looking at things to decorate the house with. I really love the look of this Orlando map from the shop SaltAndPrinter and will run you $5.92.
Some other really interesting prints from this include this mountain scene poster, I also really like this tropical leaf print, it's simple but cute. Lastly is this Virgo one, it's simple and straightforward but that is what I like about it.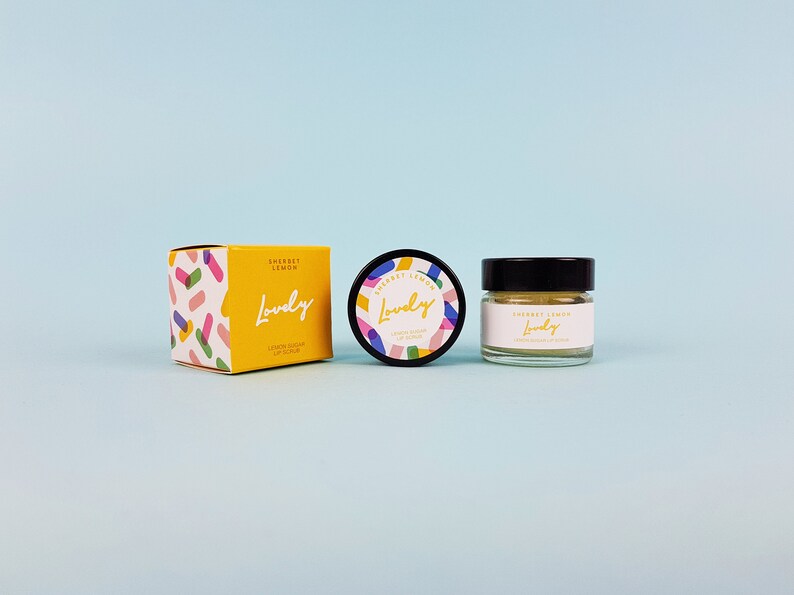 This Sherbet Lemon Lip Scrub from HelloLovelySkincare sounds amazing and will run you $9.65.
Some other great lip products pick from this shop would have to include this banana milkshake scented lip balm, this cherry cola scented lip scrub and lastly, I would have to include this fruit salad scented lip balm that sounds pretty great too. This shop has some pretty great sounding lip products and that has me interested.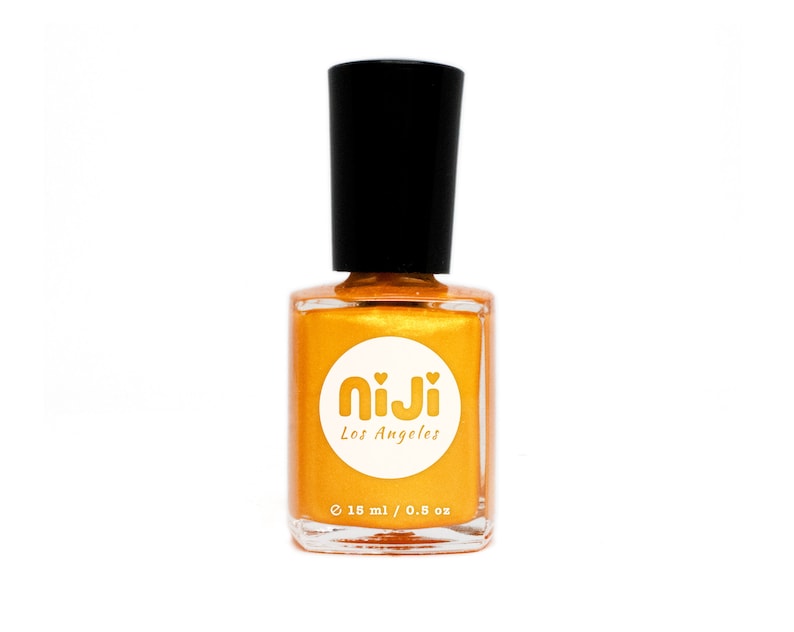 NIJINAILS is next on my list, this polish in the shade Sunkissed really caught my attention and will only run you $7.00+ depending on the size that you get.
This shop has a lot of great other color options that I am mildly drooling over, the first being Deja Blue, I think Lucky Charm is a really pretty glittery kind of shade and my last pick from this shop has to be Arctic Sky, I just love the way that it looks.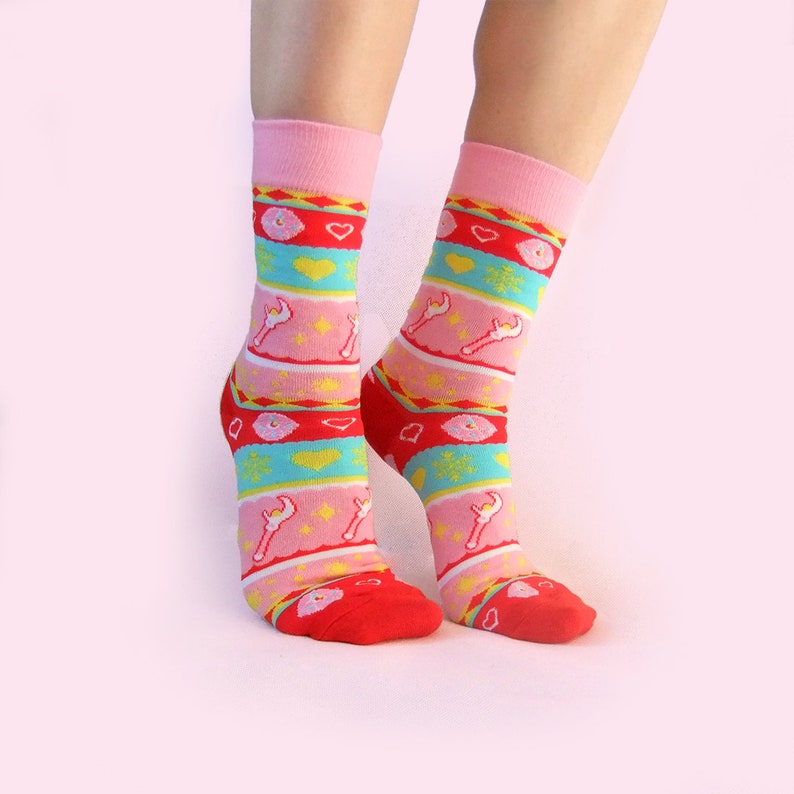 My next pick is something that I know I am going to have to get my hands on and that is these Magical Girl themed Christmas socks, all it needs are cats and it would have all of my favorite things. these come from the shop stamistudios and will run you $11.58 per pair.
This shop sells some seriously cute items and my first additional pick from this shop would have to be this adorable Luna Sleeps pin. I also think this Pixel Heart Beret is really simple but adorable, a fun twist on a simple item. Lastly I have to share this Toy Story Kitty Peas in a Pod pin with you guys because it is too cute not to share here.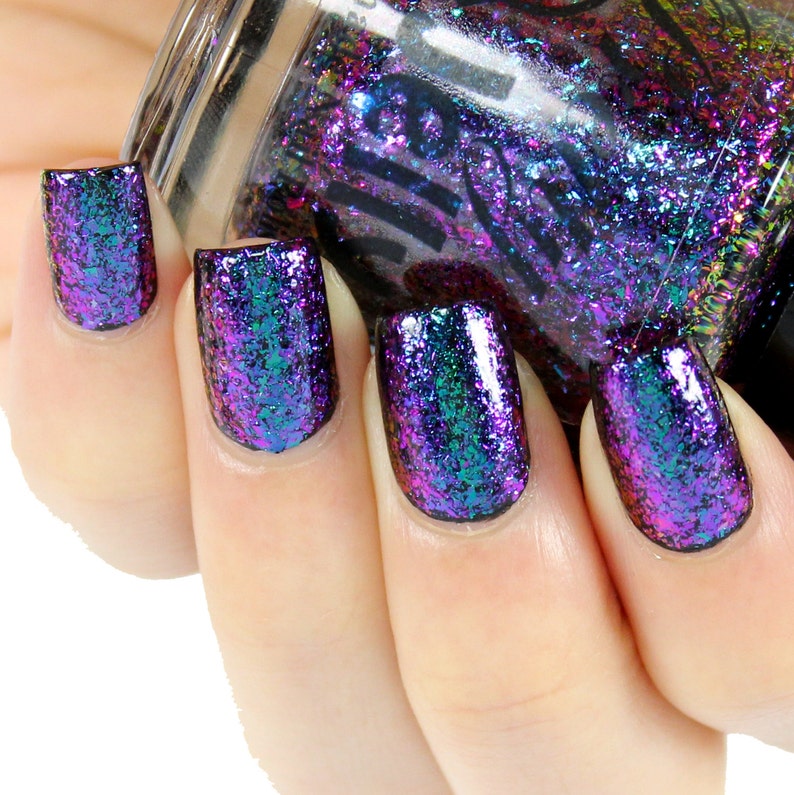 This is my last polish on the list for this month, this shade shifting glitter polish is stunning and comes from the shop PrettyJelly. This one will run you $12.00 per bottle.
This shop has some stunning shades for purchase so picking three out was a little bit tough bit I did, the first is this teal kind of holographic polish, my second pick is another really pretty multichrome kind of glitter shade and my final pick from this shop is another really fun and interesting looking holographic polish.
My next pick might be a bit random but I just had to share this pretty green glitter shadow with you guys, this is from the shop TheNakedEYEcosmetics and will run you $3.00+ depending on the size of the pan that you get.
This shop has some really stunning pressed glitters and like usual I found it hard to narrow it down to three but I have done that. This pink glitter is my first extra pick from this shop, my second pick would have to be this stunning gold glitter and my final pick from this shop is for sure this pretty pressed teal shade of glitter.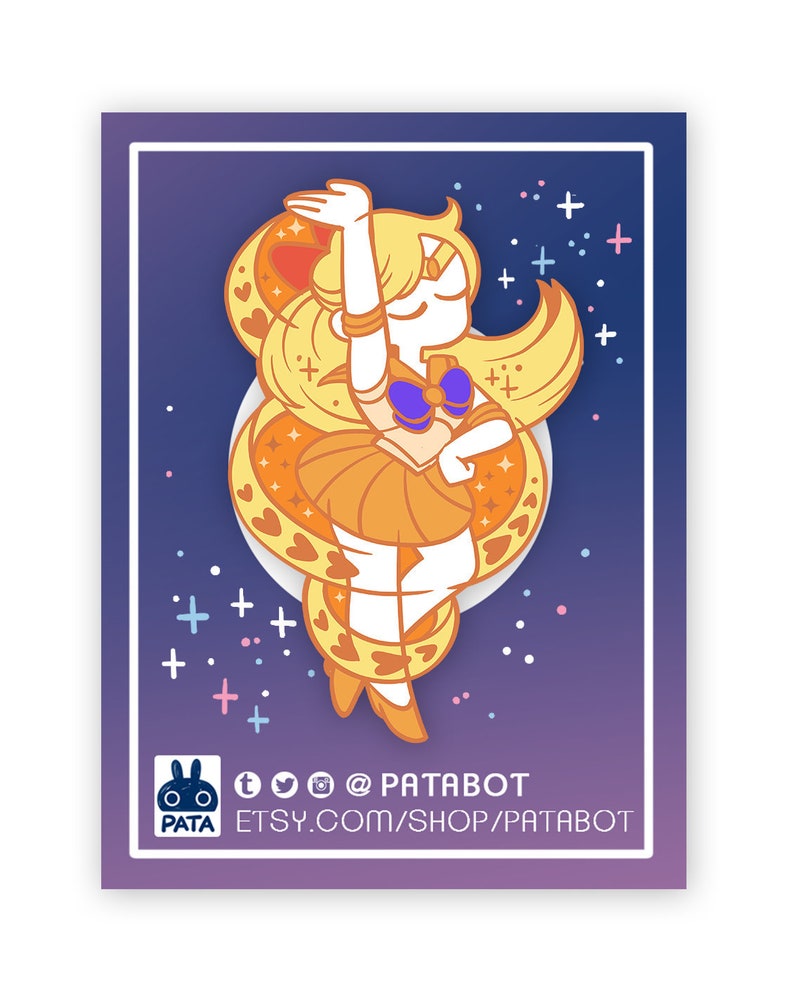 This Sailor Venus pin from the shop patabot is so beautiful, it's simple but I love it. This one will run you $18.00+ depending on if you just get one or more, so these are pretty much $18.00 for one pin.
This shop does all of the other Sailor Scouts in this style but my second favorite is probably Chibi-Moon and that is why I am sharing her with you guys. I also love Sailor Cousins sticker and think it's really pretty while also being slightly entertaining because of the name. My last pick is this Sailor Moon Mood pin because I thought it was just too cute to leave out and not talk about.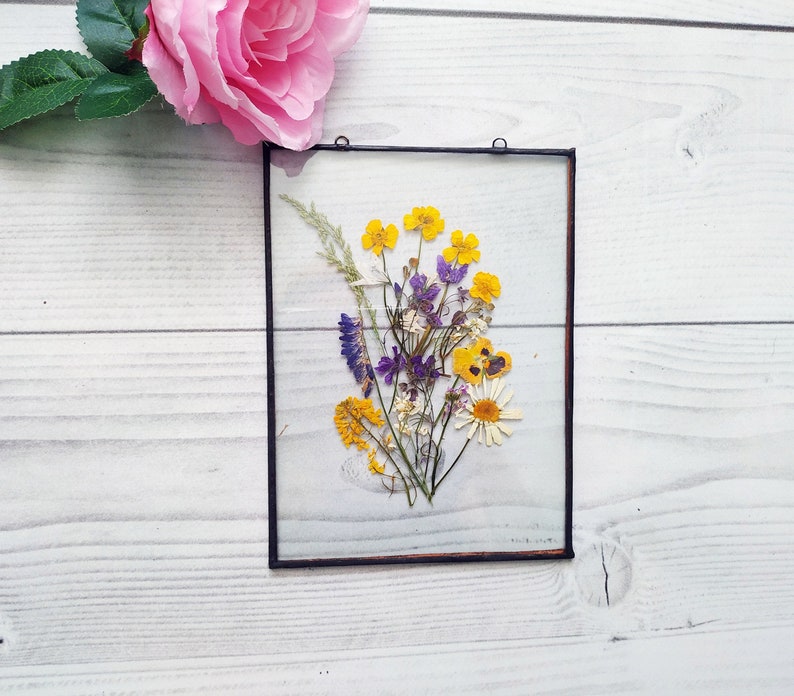 The last thing that I want to include on this list is another item for the house, I am dreaming of a gallery wall right now for whatever reason and I adore the look of pressed flowers in a glass frame like this one. This is from the shop HerbariumV and will run you $49.90.
I love these framed flowers, they are simple but also really pretty and bold. I am not sure this one is meant for hanging but I am sure that I love the look of this one a lot. Lastly, I like how simple yet pretty these white flowers are.
And those are all of my Etsy finds for the month of September, a really good mix of things if you ask me and I'm really happy with them all, I can for sure see myself picking up at least a few of these over time.
What are some of your favorite Etsy shops?
Twitter | Instagram | Personal Instagram | Pinterest | Bloglovin'
Blog Posts You Might Also Enjoy: Etsy Finds #25 | Try It Tuesday: TheLumenHouse | Try It Tuesday: BeautyBarBaby