I'm sure you guys know by this point that these are some of my favorite posts to write, I'm not sure that anyone else enjoys them as much as I do but I love Etsy and I love finding things that I think are so cute and fun. So, let's get searching.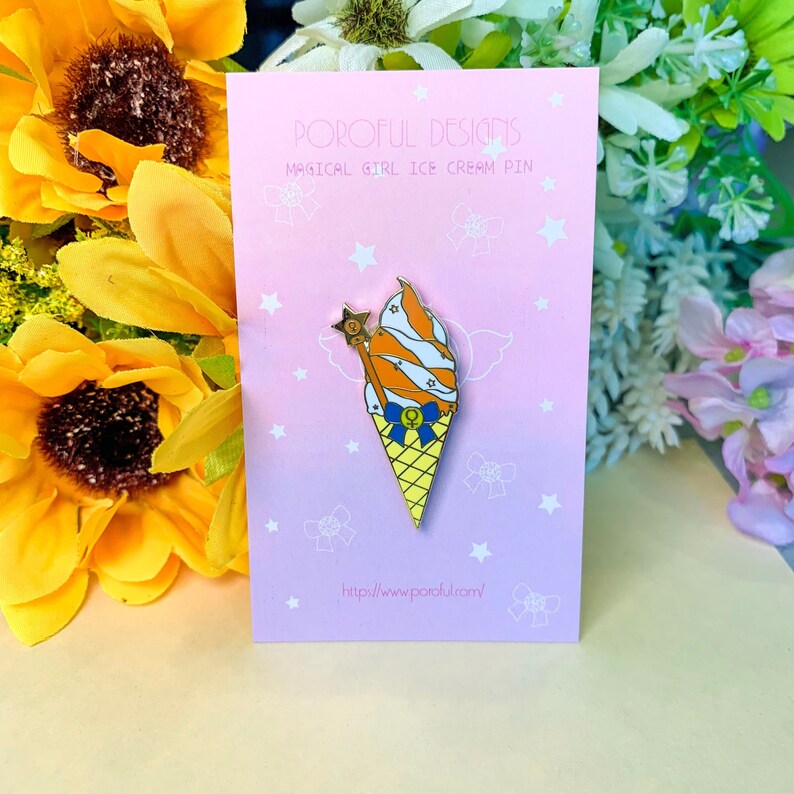 My first pick for the month is this really adorable Sailor Venus pin that comes from the Etsy shop PorofulDesigns, this one will cost you $12.53, which is pretty typical for a pin from Etsy. These are just too cute and festive to not include in an Etsy finds for June.
This shop has a lot of other really fun and adorable pins in it that made it kind of hard to choose, but I have settled on three to share with you guys starting with fluffy cotton candy one,  I also had to mention these really cute Cardcaptor Sakura ice scream themed ones and lastly I wanted to share this adorable Kiki's Delivery Service themed crepe one that is just adorable.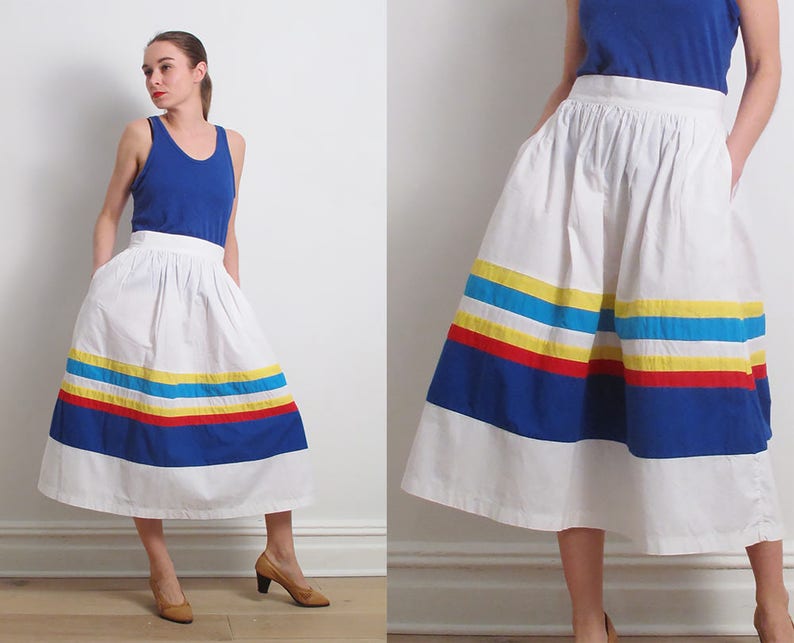 My next pick is a vintage piece that I have no hopes of ever fitting into, so I thought I would share this striped primary colored midi skirt with you guys. This is from the Etsy shop MoodyFlowers and will run you $48.00.
Some of my other picks from this shop include this really adorable and super wide-legged striped jumpsuit. This simple and in very good shape, black slip. Lastly I wanted to include this denim skirt that I am so obsessed with, it's super cute.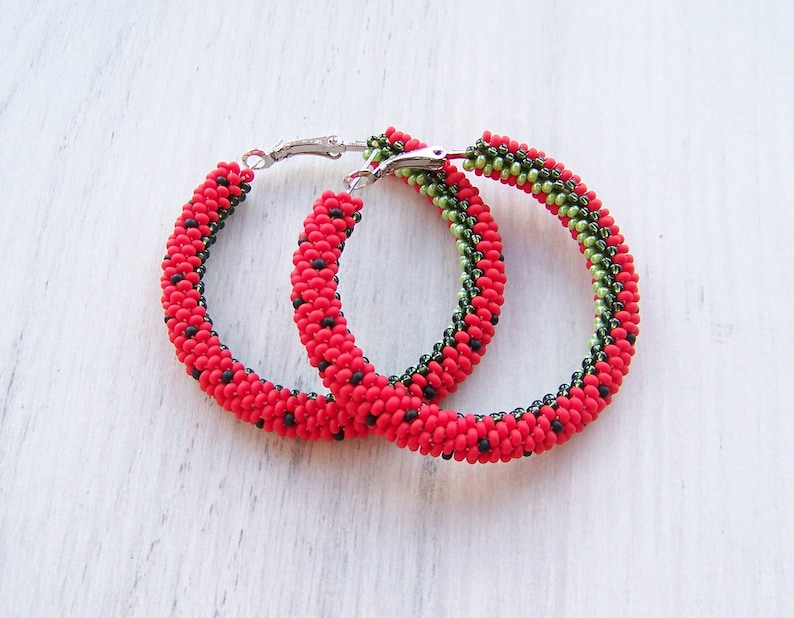 I wanted to share this really fun watermelon themed beaded hoops with you guys. These come from the shop lutita and will run you$ 29.70.
I know I have featured this shop before but these fit so well into this months post that I had to share them. Some other picks from this store for sure include these simple but super great for a pop of color orange tassel earrings. This pair of neon pink ball earrings ones that are also fantastic for a pop of color. Lastly, I wanted to include this really interesting snake necklace that I think would be a really cool statement piece. I may or may not be eyeing this one.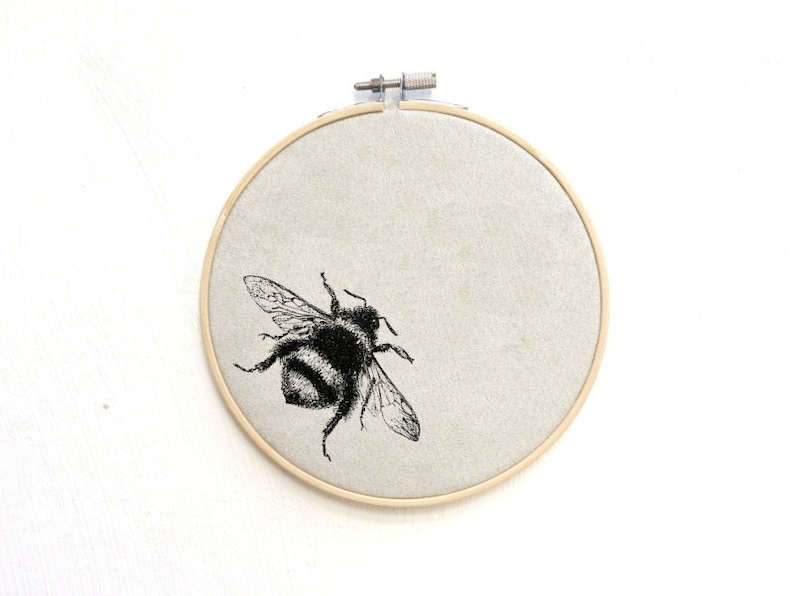 Up next is a really simple but super details bee embroidered hoop that I think is just too cute. This comes from the shop MugOHlicious and will run you $18.65
Some other embroidery hoops that I enjoy from this shop include this really cool cat one, this super detailed boat and lastly this squirrel that I just think is kind of cute.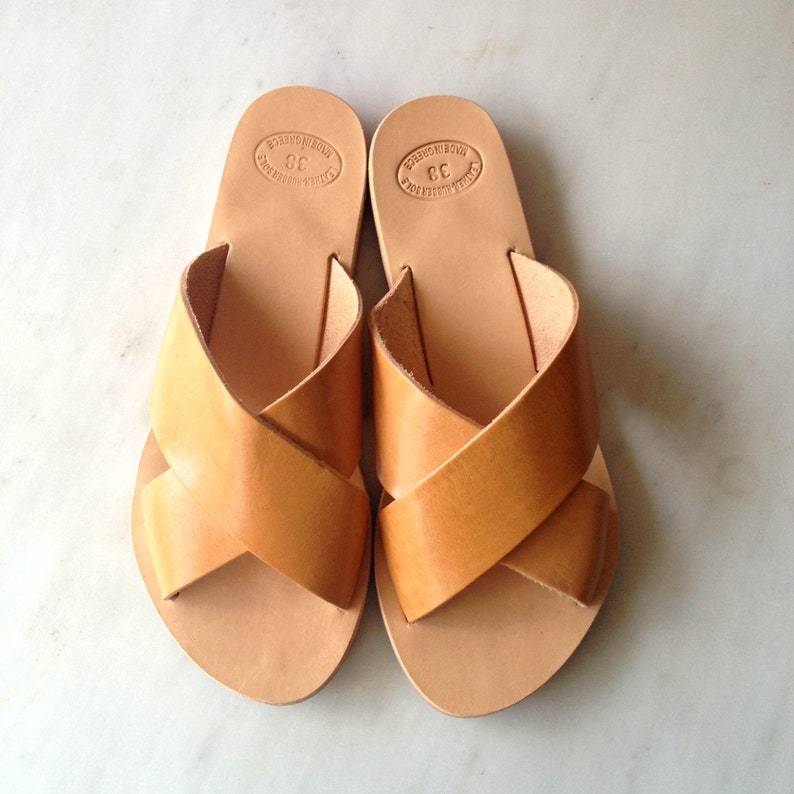 I saw these and while they are really simple, I thought that these look really comfortable and like fantastic summer sandals. These leather sandals are from the shop MadebyMarKa and will run you $41.06
This shop has some really cute accessories like these simple but fun and perfect for summer sandals. I also think that these half moon earrings are stunning. Lastly, I have picked out another pair of sandals, these black pom-pom sandals are so simple but so fun.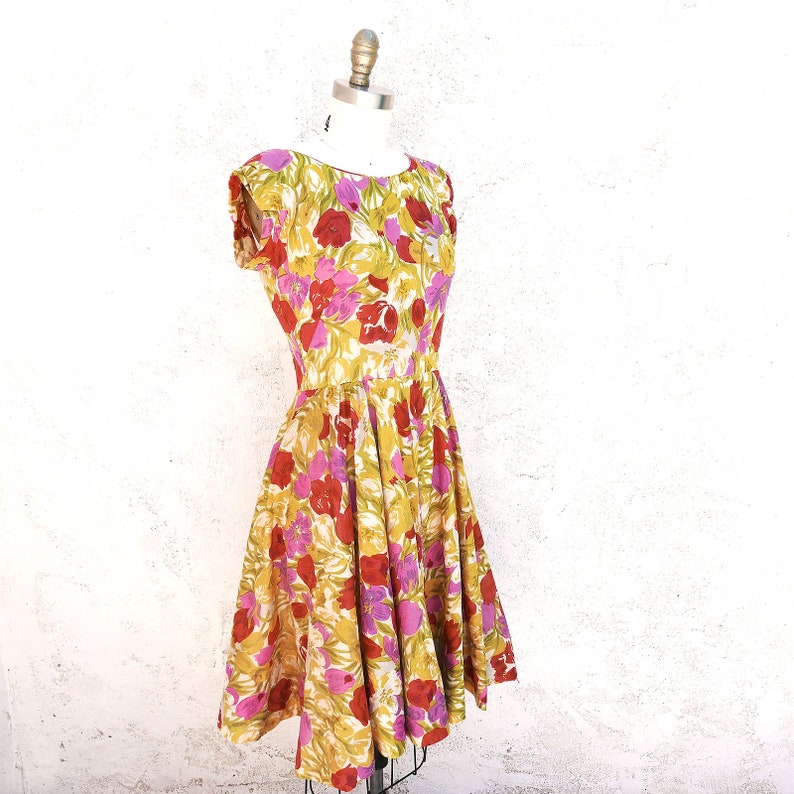 This one is another vintage piece that I think is stunning but couldn't fit into, so I had to share it with the world. This floral 50s summer dress comes from the Etsy shop StraylightVintage and will run you $38.00, which isn't too bad.
First up is this classic little black dress that is just perfect, next I picked out something a little more fun and that is this bright floral dress, lastly, I settled on this yellow dress that is just too cute to not include and I love the black accents on it.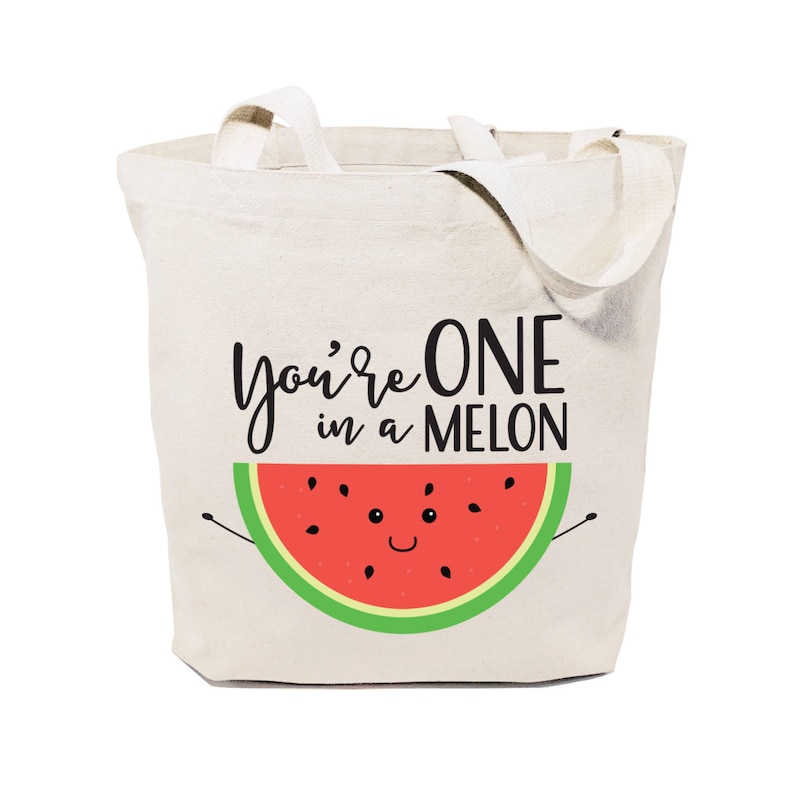 This melon canvas tote is perfect for any trip to the beach that you might take this summer, it's adorable and is big enough to carry around all your staples. This comes from the shop thecottonandcanvasco and will run you $18.99.
Some other fun picks from this shop include this let's give 'em something to taco about tea towel, this simple sunshine on my mind tote bag and this really adorable sunkissed little makeup bag.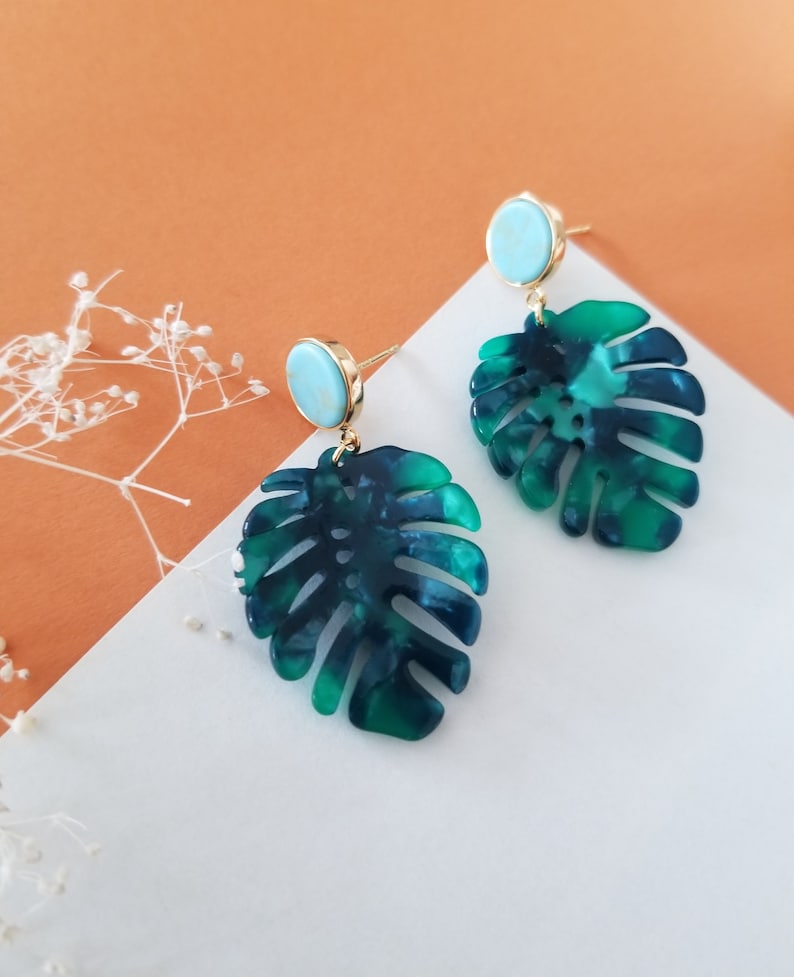 Next on my list are these fun and completely on trend statement earrings, these are Monstera Leaf Earrings and come from the store LaLaCrystal and will run you $26.00.
I'm going to start out my extra picks from this shop with this pair of cute and pointy turquoise drop earrings. I also really love how cute but simple these bee earrings are, though I must admit I do wish that the jewel was a slightly different shade but it's still cute. My last pick from the shop is this really cute and simple rose gold personalized floral necklace, which is a mouthful but is really cute since it's basically all a soft pink shade.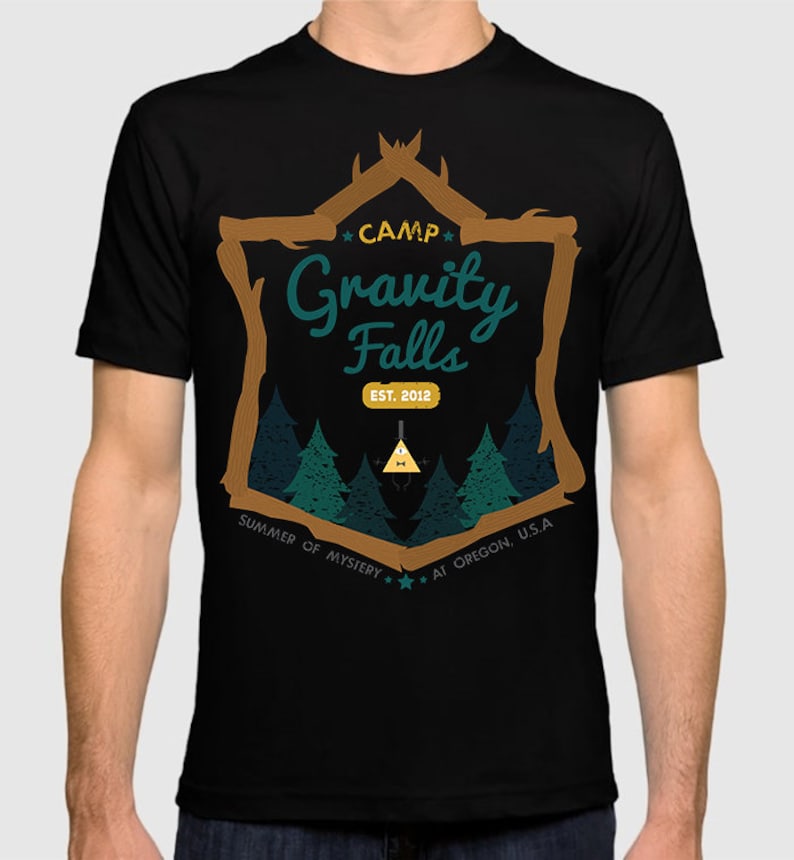 I saw this shirt and had to include it because I think this is perfect with the whole summer theme that I have going on. This camp Gravity Falls is from the shop DreamatoriumStudio and will run you %15.12+ depending on what color you get and such.
This Etsy shop has a bunch of other fun tee shirt designs but as usual, I have picked out only three items to feature in addition to my original pick. My first pick is this Lilo & Stitch Tee shirt that I think is just adorable. I also really love this Loki tee, it's pretty cool, and lastly I have picked out this Steven Universe one.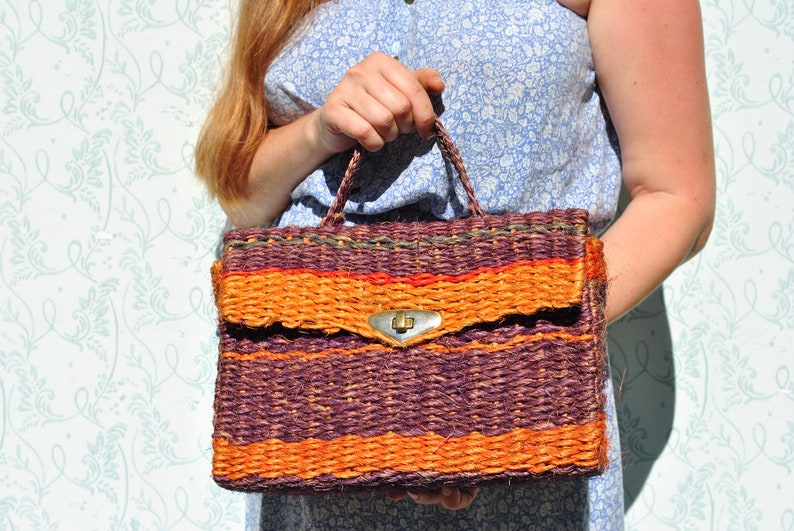 I know that these woven kind of bags are really trendy for the warmer months and when I saw this fun little bag I thought I had to share it. This is from the Etsy shop BalthazarVintage and will run you $40.00.
This shop has some really stunning finds and it was hard to pick out just three, but I have chosen this straw bag that is basic but interesting. This stunning leather bag and lastly this fun maxi skirt.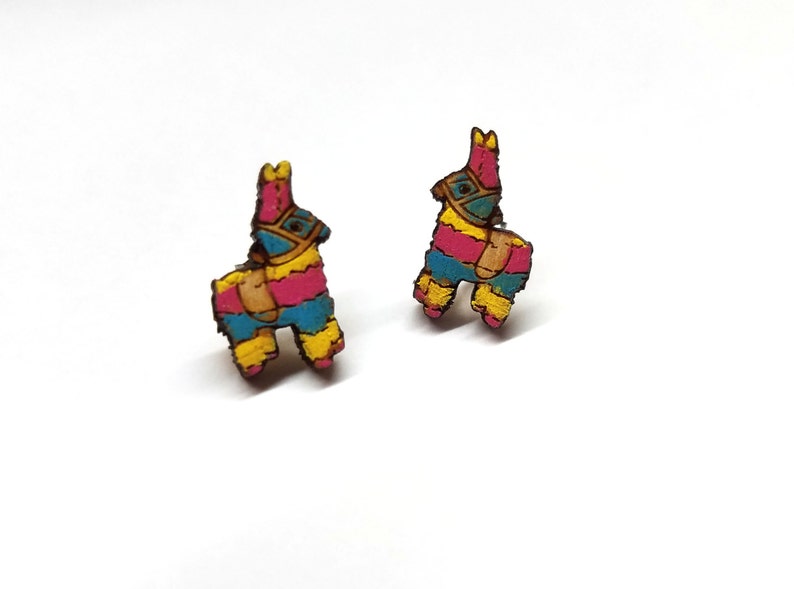 Thes earrings are so fun and colorful, I kind of love them. These pinata earrings are from the shop MaddisonCherie and will cost you $10.00.
Some other fun picks from this shop include this cute little Scorbunny pin, these adorable Psyduck earrings and lastly these too cute Hamtaro earrings that I think are just too adorable not to include.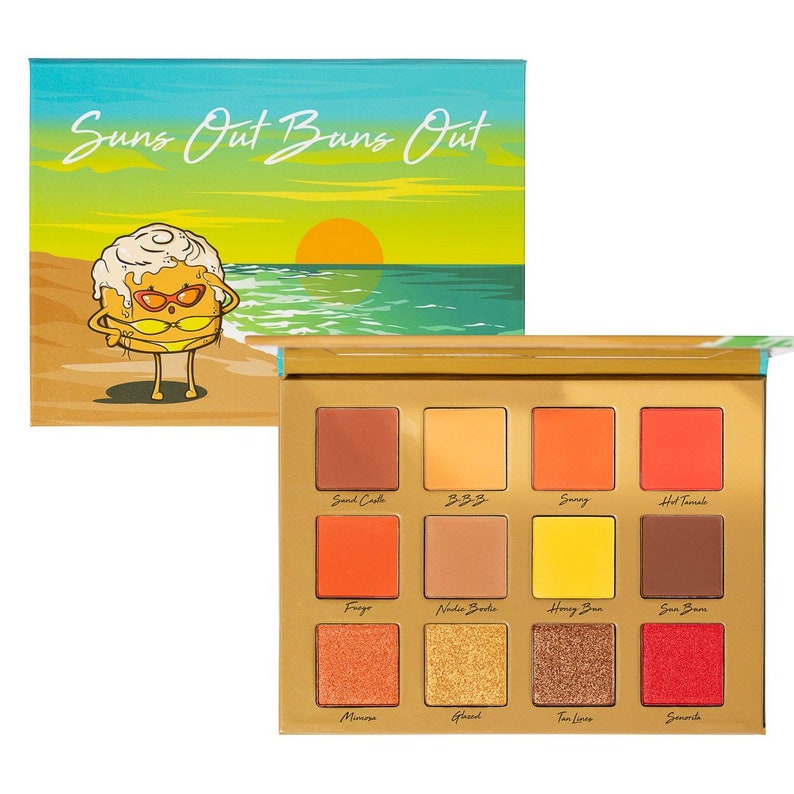 My final pick for this month is this really pretty warm toned eyeshadow palette. The Suns Out Buns Out palette comes from ChentillyCosmetics and will run you $15.00, which is a pretty good price I think.
Typically I include three other picks from a shop when I pick out an item, as you guys probably already know from this post, however, this shop only has one other item which I will feature here but I can't pick anything else. This shop has some really pretty loose highlighters.
Sometimes I like random and sometimes I like to stick with a theme, even if it doesn't seem very obvious. This month I am for sure leaning really hard into summer themed items and I loved doing it, seasonal content is so fun sometimes, at least I think it is.
Do you shop on Etsy?
Twitter | Instagram | Behind The Scenes Instagram | Pinterest | Bloglovin'
Blog Posts You Might Also Enjoy: Etsy Finds #22 | Etsy Finds #21 | Etsy Finds #20