It is time for me to write one of my favorite posts of every month, which I am pretty sure I say every month because I just love it that much, it's time for some Etsy finds. Last month we went back to the random picks but this month I am trying to keep a festive theme once again. I'm thinking about trying to do that every month and maybe even start doing themed ones sprinkled in here and there, I'm not sure but I am thinking about it. Anyway, enough about that, let's get into the finds from this month.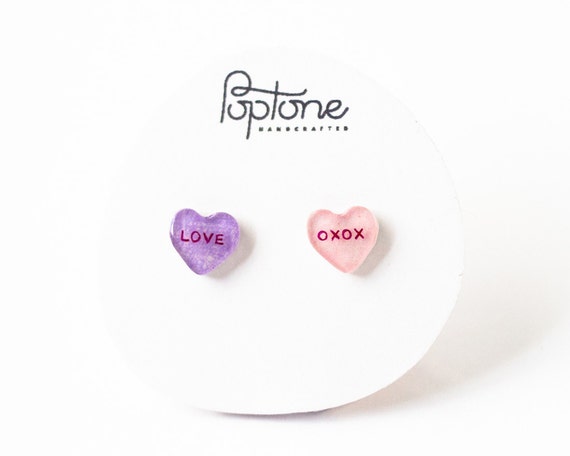 To kick off this cute and festive Valentine's Day theme Etsy finds post, I'm starting with these super cute earrings from the Etsy shop Poptone and they will run you $14.90. This shop has a ton of really cute earrings that I am now lusting over, they are just adorable. Some of my favorites are these orange earrings, I also love these pinata earrings and the last thing I want to mention is this hot air balloon necklace.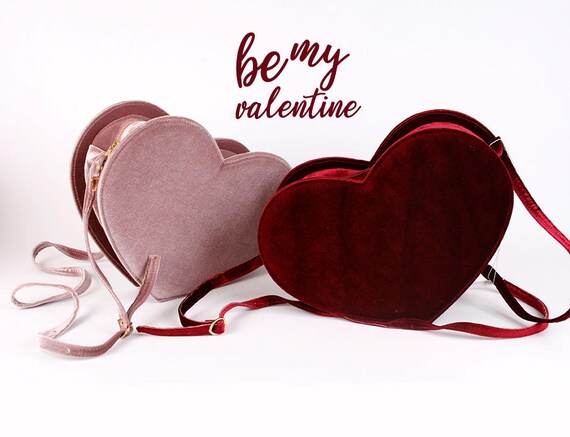 I think I've featured this shop before but I don't even care, these cute little heart bags from the shop TitinaStore are too cute not to share.  One of these will run you $45.00. Some other things that I think are too cute are this really adorable iridescent heart pouches,  I think this strawberry bag is also adorable and kind of fits into this month's theme, and the last thing is this cute pastel heart pin, that I personally think is so very cute.

I personally love baths and think it's very Valentine's appropriate to feature such an adorable bubble bar such as this one. This cute little unicorn horn bubble bar is perfect for a festive Valentine's day bath. This is from the stop PeachLoveBath and will run you $6.00. Some other super fun things from this shop are these kiss my stars bubble bar which sounds really fantastic, this fun cucumber melon body scrub that sounds really great and the last thing is this rainbow sherbet bubble bar scoop that is just too cute and sounds like it smells amazing.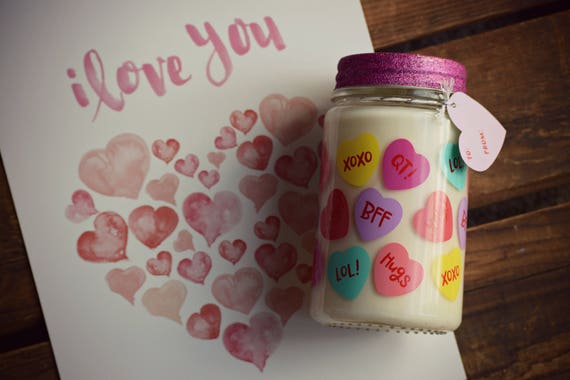 I think this candle is just adorable and would make a perfect gift. This is from the shop carnationcandleco and will run you $18.95, this does come in a few different scents for you to chose, which makes it very customizable. Some other items from this shop include this snickerdoodle candle that sounds fantastic, this holo heart candle and lastly honeydew melon scented candle that I am really into the idea of.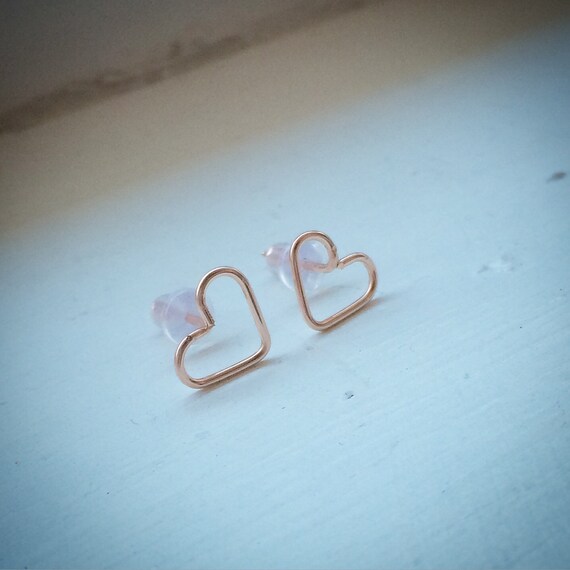 I really enjoy stud earrings and I really think these are simple and cute, I also really like the fact that there is no center, these are just adorable. This set of earrings comes from the Etsy shop KrausHausKrafts and will run you $12.00. These tiny little dainty pineapple earrings are just way too cute not to include on this list. I think this little locket with two states in is just the cutest little gift for long distant lovers, friends, even cousins. And the last thing from this shop that I'm going to feature is this state necklace, I do believe she makes all the states so it would be perfect for anyone on your list.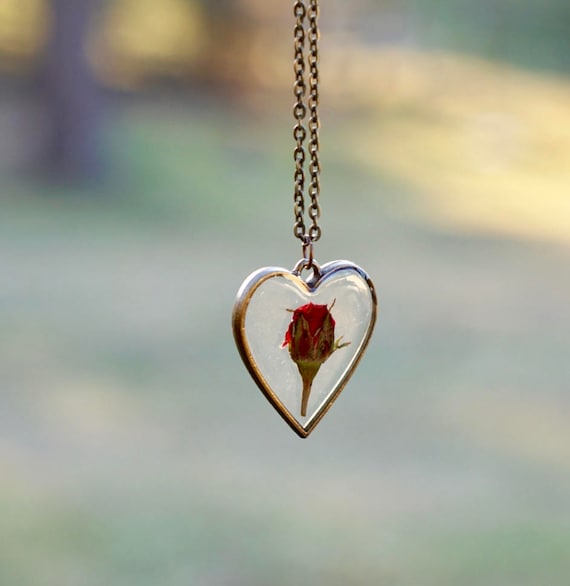 I think this next necklace is just stunning, this is a heart-shaped necklace with a little rosebud on in inside, it will run you $24.00. I just thought this necklace was so different but also danity. This one comes from the shop PrettyPickle and a few other items from the shop that I love is this yellow daisy necklace that reminds me a tiny bit of a mini sunflower, these really adorable teardrop shaped white queen anne's lace earrings and this yellow queen anne's lace necklace that I think is really bright, fun and just really cute. I think the items in this shop are really interesting and different.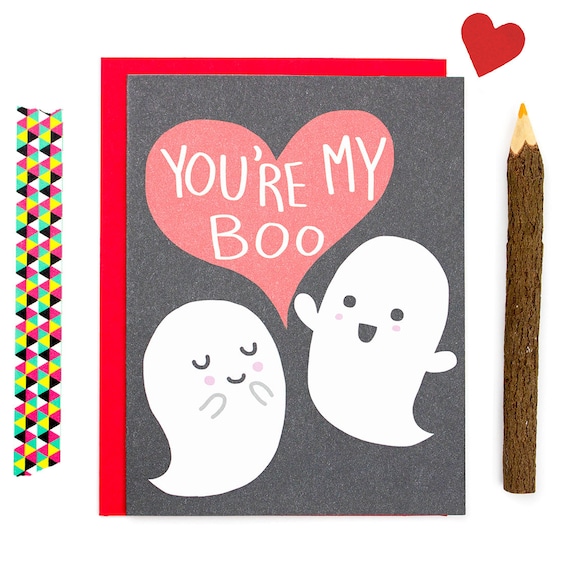 It is time for me to share some cards in this post, I feel like valentines is incomplete without a really adorable card so this one is the favorite that I've found, it's from the shop TurtlesSoup and will run you $4.50. Some other really cute cards include this fine-apple card, because who doesn't love a great pun? The next is this I love you more than tacos one which is also super cute and a very rare feeling to have I think. And the last is main squeeze one that I think is so sweet and adorable.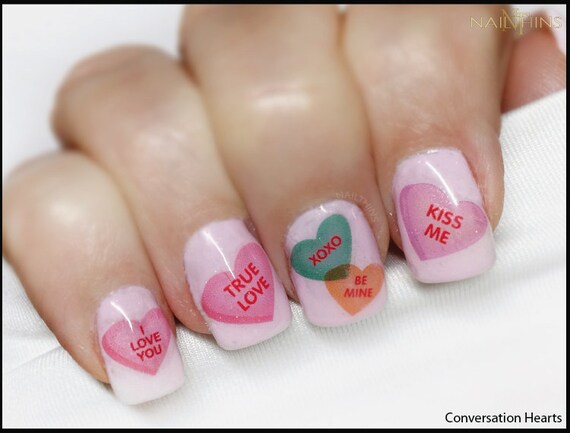 And the last thing are these really adorable conversation heart nail decals from the shop NAILTHINS and they will run you $4.00.  While conversation hearts are pretty gross, they are very cute and I think these are just adorable. Some other decals from this shop include these reindeer tip ones, these peter pan ones for all the Disney lovers and lastly are these simple little anchor decals.
And those are all of my fun Valentines picks for this month on Etsy, I think everything is just adorable and if you hate Valentine's Day then you will probably hate all of these picks, but I personally love the cute colors, glitter and hearts so I am really happy with all of these.
Should I start doing themed etsy picks or keep them random?
Twitter | Instagram | Pinterest | Bloglovin'