I am back again this month with another Etsy finds post, this is quickly becoming one of my favorite series, I can't believe this is only my third one. I feel like I could do two or three of these a month and never run out of fantastic items, but I am going to limit myself to one a month. If you want to check out last months Etsy finds, you can check it out here.  Now, let's see what kind of things I found on Etsy this month.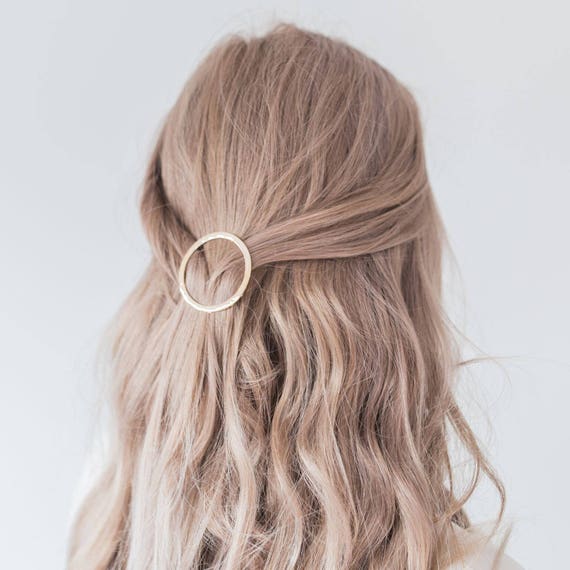 We're going to start this month out with an item that has been sitting in my cart for way too long, this really simple but pretty hair clip. I don't know what it is about this one but this is something that I've had my eye on for a little while. This comes from the Etsy shop LovelyLittlesandCo and will run you $9.59, plus shipping. This shop sells pretty much exclusively hair accessories and has a pretty good variety of them. Some other super cute things from this shop include these really cute felt rose clips, that they sell in various different colors and this cute set of various little-felt hair accessories, which are very pretty and give you a little taste of a few of their designs.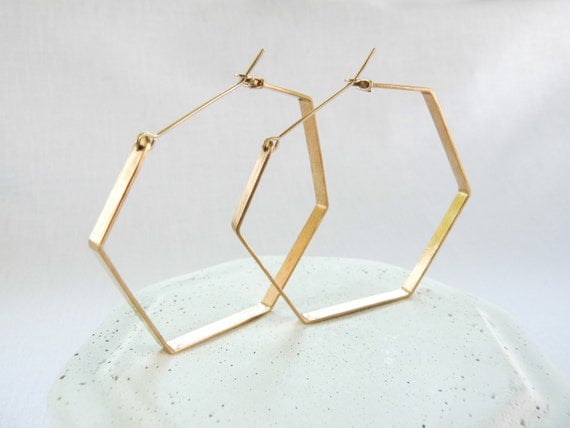 These hoops are so cute, I'm not the biggest hoop person myself but I would wear these and really love the looks of these, they are much more interesting than just your typical hoop earrings. These are also super simple. These come from the shop NEWREFINEDBASICS and will run you $62+ plus shipping. This shop does a lot of really simple and pretty basic jewelry like these really interest dangly earrings or these really simple hexagon bangle type of bracelets, all very simple but still really interesting if you ask me.
I'm going to be a little bit obnoxious with my next pick, while I am not a Mrs. yet, I am getting married in about a week and just think this is a really cute necklace that I probably wouldn't ever wear, but maybe I would, who knows. This comes from the shop PROJECTDAHLIA and will run you $47.00+ plus shipping. This shop sells mostly personalized jewelry, like this cool name necklace that I am super into and really want my own one of, or these really pretty rose gold bracelets.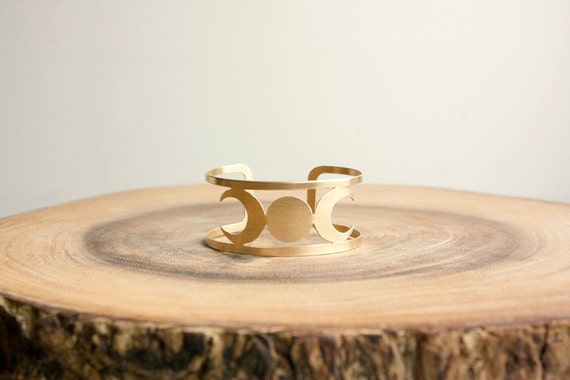 Next up is this really simple but this pretty interesting bangle type of bracelet. This comes from Honey Thistle on Etsy and will run you $65.00 plus tax. This shop sells a lot of interesting things, the page says geometric brass jewelry and terrarium jewelry. Some of the other cute things from this shop is this cute little mermaid in a jar necklace and this really interesting long crescent moon necklace.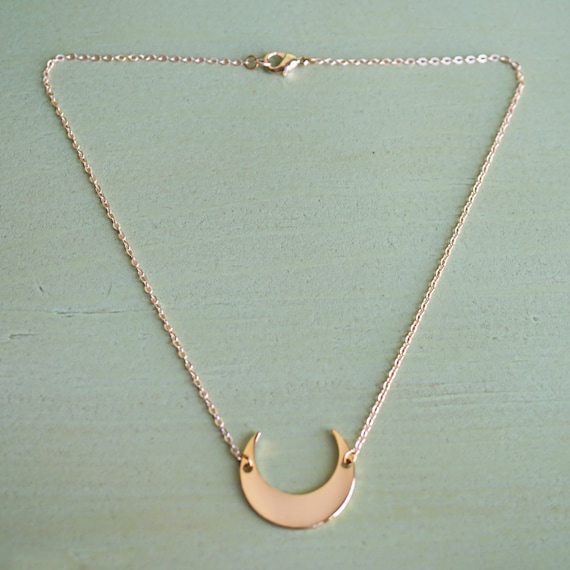 This necklace is the one up next, I love this because it's simple and something that I could wear with anything, but this also reminds me of Sailor Moon and that's always a plus for me. This is from the shop LindaPanda and this necklace will run you $25.00, which isn't too bad of a price. This shop has a lot of super cute apparel that I'm dying over, this really cute Catupccino pink that is so cute I can't even contain it. And then theres this amazingly adorable If I Fits I Sits tank top that is one of the cutest tank tops I've ever seen.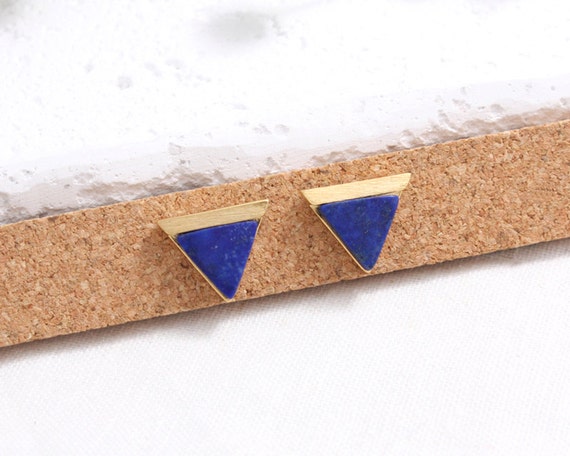 This next pick of mine is taking it back to something that I've loved for a while and am really just mentioning now I think, and that is minerals, gem stone, crystals or whatever you might want to call it. Either way, these Lapis Lazuli Triangle Suds are the next find on this list. These come from the shop fromJDesigns and will run you $15.00. This shop sells jewelry only, some other cute items from this shop are this really interesting honeycomb ring and this really cute little opal triangle necklace.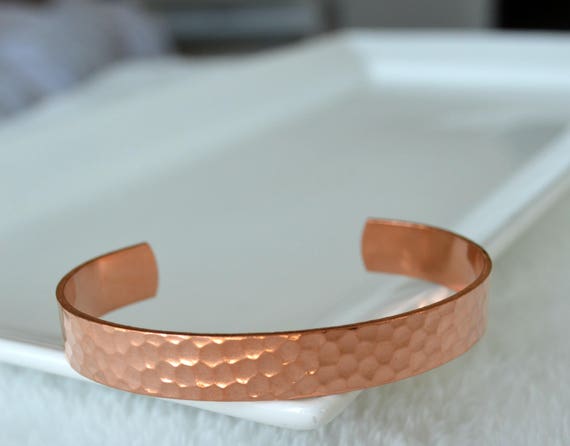 Another really simple jewelry bangle bracelet, which seems to be the theme of this post, simple and interesting jewelry pieces. This is from the heyjuneshop on Etsy and this one will run you $14.00, a rather good price for this bangle. This shop sells really simple and straightforward jewelry, like this set of really cute watermelon earring studs or these really cute and simple cactus stud earrings.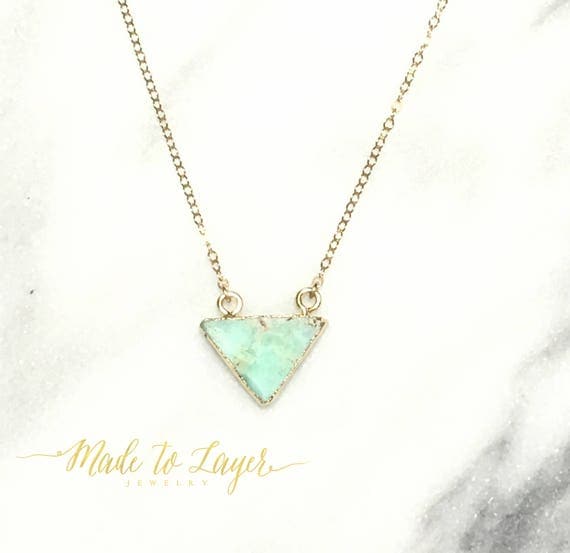 And the last item on this list is this really pretty geode necklace, I think this is a stunning necklace. This necklace comes from the shop MadeToLayer and it will run you $45.00. This shop sells jewelry and only jewelry, which isn't really surprising as that seems to be the theme of this entire post. Other really cute items from this shop are these hexagons earrings or this really simple and great for layering bar necklace with an abundance of other necklaces I think.
And those are all of my finds from Etsy this past month, not really my best mix of products but still a great list of products. And when I say not a great mix I mean this is basically all jewelry and not much of anything else. I'm really happy with this list and I love this series.
What are your favorite Etsy shops?
Twitter | Instagram | Pinterest | Bloglovin'