I feel like I go through phases when it comes to Etsy, meaning I'm really obsessed with it and then I forget that it exists, this is a pretty quick cycle between the two but since I'm doing a post all about Etsy finds I think it might be clear that I am really into Etsy at this moment in time. Basically, if this post isn't already clear, I'm just going to share some Etsy finds that I either really want to get my hands on or just think are really cool, because Etsy is such a huge place where you can get all sorts of things and that's what I love about it, plus I love smaller business and handmade things, I think it's all around a really neat place.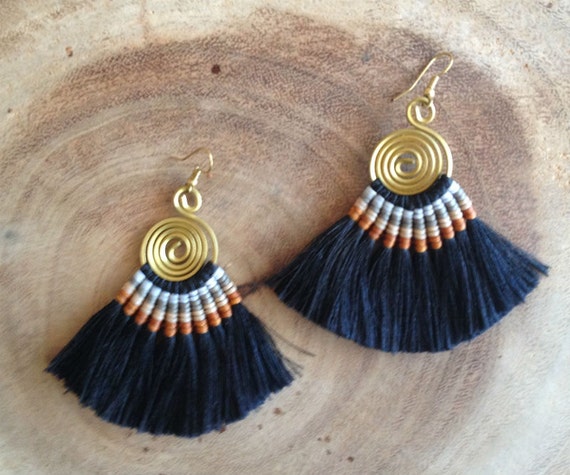 These really cute black tassel fan earrings are from midgetgems on Etsy. I really love tassel earrings at the moment in time, I have a ton favorited on my Etsy and these were the pair that really stuck out to me, so that's why I decided to feature these ones today. It says these are black but they look a little more navy like to me, which I personally prefer and I prefer gold over silver, so these are just right up my alley.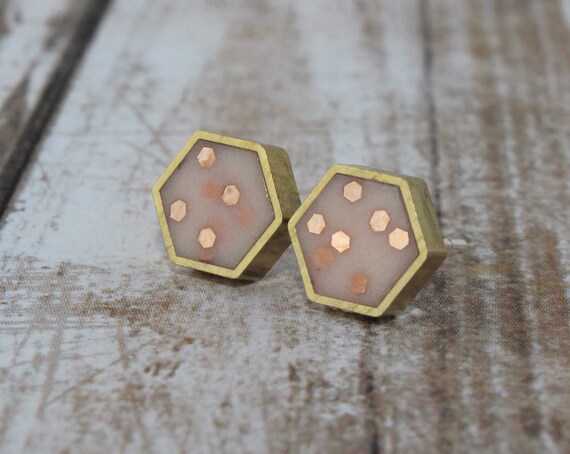 I have another pair of earrings to share, these ones are studs and a little bit more understated I think. These are from TwoBlueCreations, on Etsy, of course. I've been looking at this style of earring for a little while now, I really like the shape of it, how it has glitter suspended in it and it just looks a little foggy. This shop has a bunch of different options of earrings that look like these but these are the ones that I thought were best.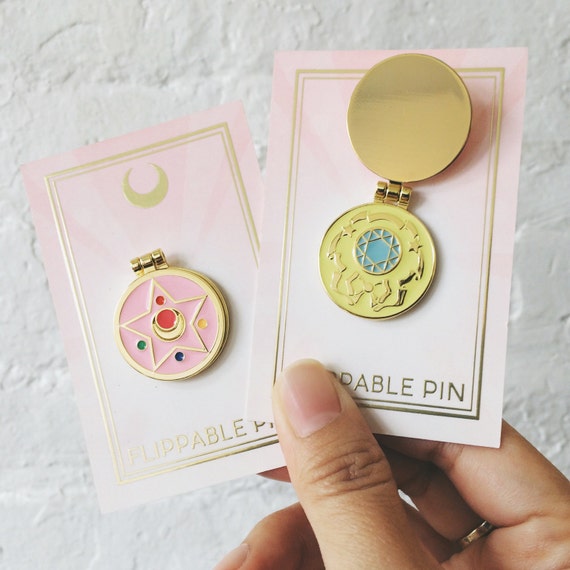 Pins and things like that seem to be crazy popular right now, at one point I saw no one talking about them but now they are everywhere, especially on Etsy. Because of this, I picked this really cool Sailor Moon one out from PixiuNYC on Etsy. I have been eyeing this for a little while now, I love Sailor Moon and I love that this flips open, it just overall seems really cool and I'm probably going to have to purchase this before jacket season hits us. I wear most of my pins on my denim jacket.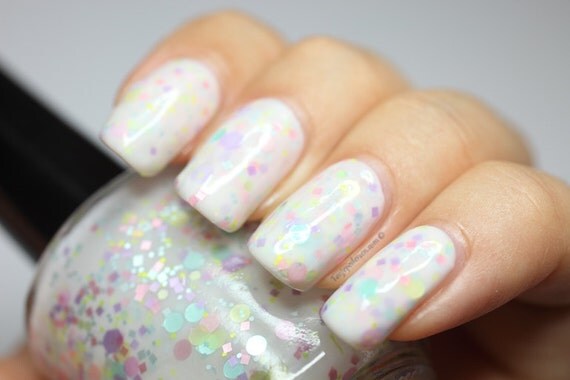 It's probably clear by the recent posts on my blog that I have fallen back in love with nail polish, we never parted ways but I wasn't really buying polish often and wasn't as focused on it, I have returned though. This polish is from GiddyDesign on Etsy. I'm not a huge fan of white polishes but I adore this one because of all of the colorful, pastel glitter that is suspended throughout it.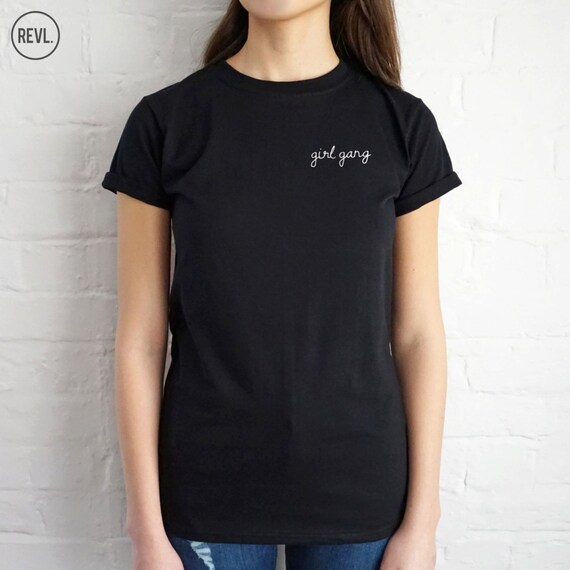 I love this tee! It's very simple and straight forward, which I quite enjoy. This is from RevlApparel on Etsy. I'm thinking about getting this for myself and my bridesmaids as our matching tees, instead of being one of those obnoxious bridesmaids, bride, etc. kind of shirts. I am debating between one of those obnoxious ones and this, not sure if I'm going to go either route but I do enjoy this shirt.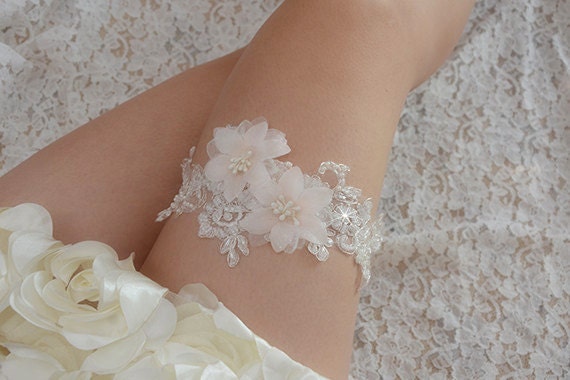 Speaking of wedding things, here is another wedding type of item that I have had my eye on for way too long now. I am not sure if I will be wearing a garter or not, which is why I haven't pulled the trigger on this beauty. This garter is from annabrides on Etsy. This will be the garter I wear if I do wear one.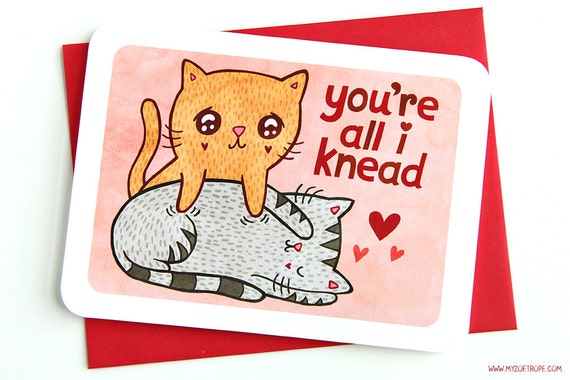 I feel like this one is almost more of a shop find than it is just an item, I had such a hard time picking out one card to use in this post but I settled on this one, which is just the cutest thing ever. This is from MyZoetrope on Etsy. All of the cards in this shop are so cute! It's so hard to just pick one when you look through it all.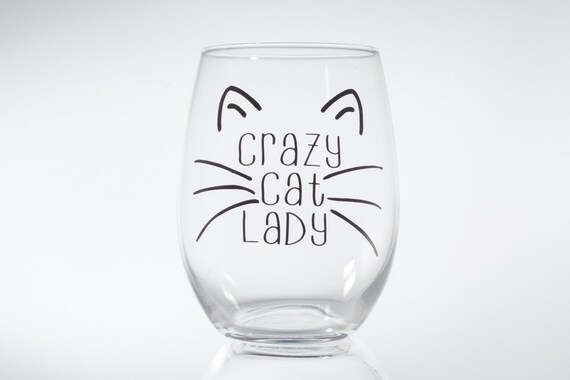 And my last item is something really similar to something that I used to own but ended up breaking and that is this really cute cat lady wine glass, it just speaks to me and I love it so I had to feature it here. This is from HakunaMoscatoDesigns on Etsy. They sell tons of stemless wine glasses but this is my all time favorite!
And those are all of the finds that I am featuring this time around. I really loved doing this post and I hope you guys enjoy it to, if you do I'm really thinking about making this a monthly post just because it was so fun and I love finding cute things on Etsy. I think this was a fun mix to show off how wide the Etsy range can be, even though this was only a little taste.
Should I make this a monthly post?
Twitter | Instagram | Pinterest | Bloglovin'